A blogger always looks for new ways to improve his blog A / B Test helps it. If there are problems in many A / B testing tools, then you have to pay a lot of money to use something. Google has created a tool for it called Google Optimize , what is Google optimization in this post and how to use it? The complete information will be available. What is Google Optimize and How to Use It – Full Guide in Hindi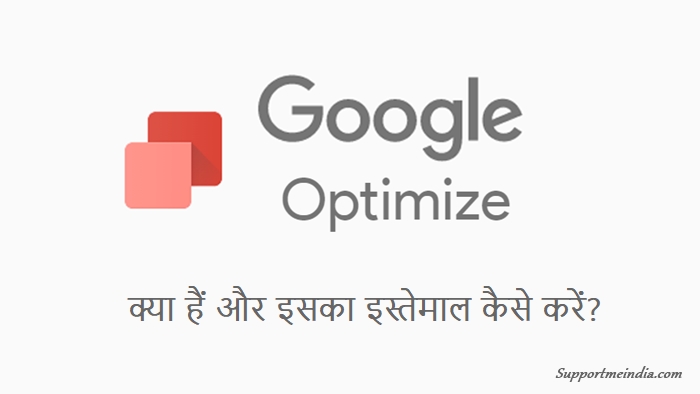 Google's answer A / B testing is called Google Optimize. If you have not heard about this tool yet, then it may be because its beta version came in the previous year.
But now it's free to use and Google is also sending messages to its webmasters and telling about it. You can check your email inbox and get a message from Google Optimize.
So let me tell you about the details of the google optimize tool.
What is the Google Optimize Tool?
Google Optimize is a free website A / B Test Tool that integrates directly into your google analytics account. This is helpful for WordPress developer and helps in site design optimization.
This is Google's new website testing and experimentation platform, which allows you to improve your site in advance by using A / B test.
2 version of Google optimize it, Google Optimize And Google Optimize 360 K Google optimize is its free version and Google optimize 360 ​​premium version.
Here I am telling you a reason to use the google optimize tool which will motivate you to use this tool.
It's free (Its; free)
It integrates with analytics so that you can make an A / B test based on factual evidence from your site's performance and guess it.
To use this, you have to add a code to your google analytics tracking code.
Optimize comes with real-time diagnostics within the visual editor so that they can see problems with their tests before running them.
Mobile A / B testing capabilities are also included in this.
Great integration with Google analytics and Google Tag Manager
A/B या multivariate testing.
It tells you what could be better in designing your site.
What is the Better Call to Action (CTA) for your site?
This tool tells you what is working well on your site.
You will know about what else is in it and after you use it, you will know. The Google optimize tool now works with Google Analytics as well.
How to use Google Optimize on your website?
If you already have google analytics accounts, it is easy to use, if not, how do you first create an account on Google Analytics? Make reading and learning.
After that you can set up google optimize with the help of guideline below.
Step #1: Set up Your Account
First of all, you can login to the Google account associated with analytics in the browser, then go to the Google Optimize website and select the desired option.
If you are going to use the google optimize tool for the first time, then click on Start for free button to give it to its free version.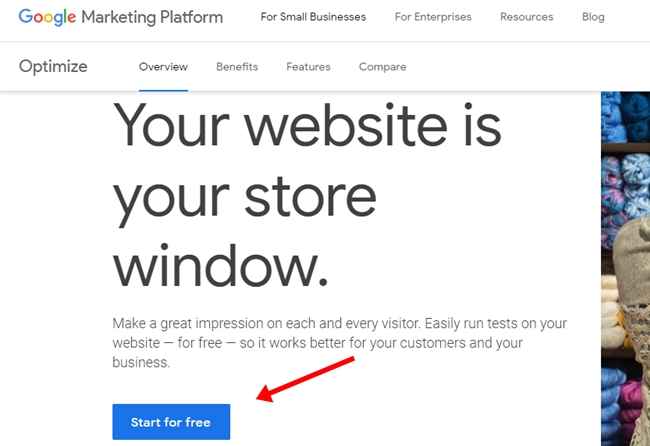 Step #2: Link Your Analytics
Now we will first connect your analytics account to google optimize. For this go to the Link to Google Analytics section in the right side.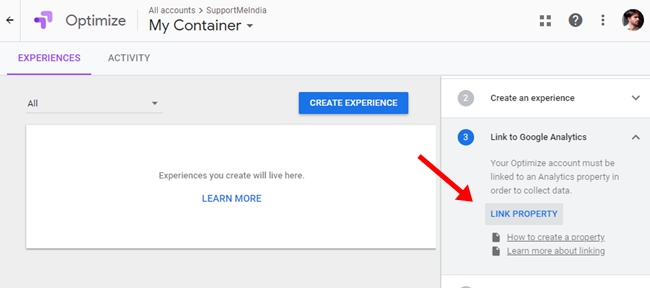 Click on Link Property .
Select the analytics property you want to link to google optimize.
Then click on the Link button.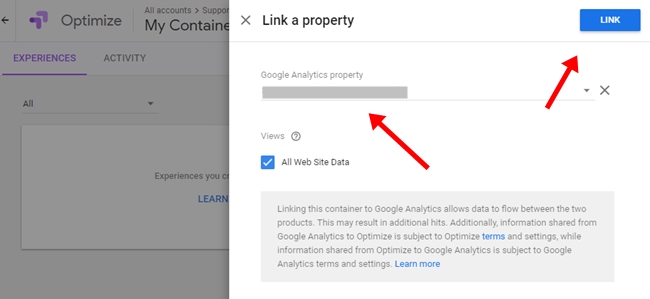 Now a popup window will open, click on Get Snippet.
Click Get Snippet.

Now a popup window will open again that will have your Modified google analytics tracking code. You will get two pieces of code a Optimize plugin and second Modify Analytics Tracking Code K
For example, you can see these screenshot. You only need to use one or the other, either by adding the previous code to add analytics code in your blog or by replacing it with the second code.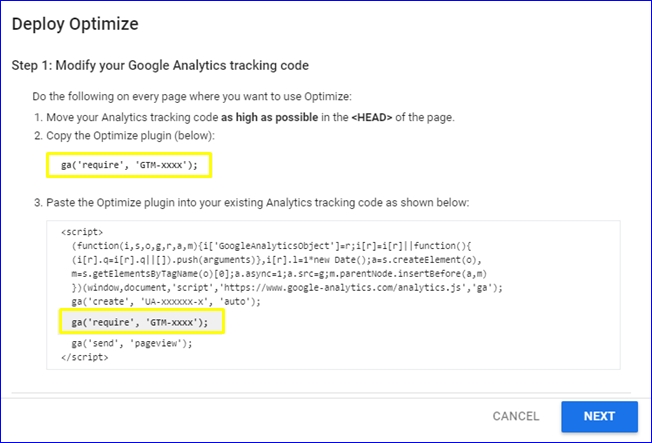 Step #4: Add Page Hiding Snippet
Go to the next page and go to the next page, google here suggests that just add this code to hide the page snippet for the user to see just your variant content.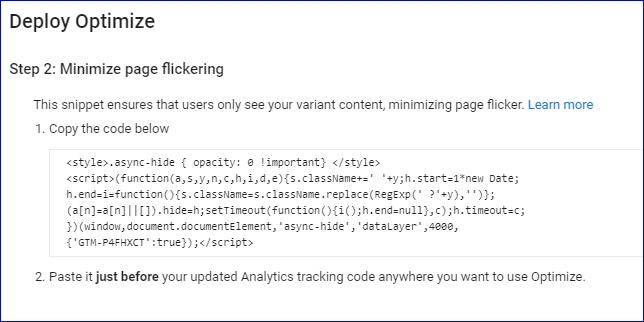 You can add this code to your site's header or footer section. Then click Done.
Step #5: Get Chrome Extension
If you want to use google optimize's visual editing interface, then you have to install the google optimize chrome extension .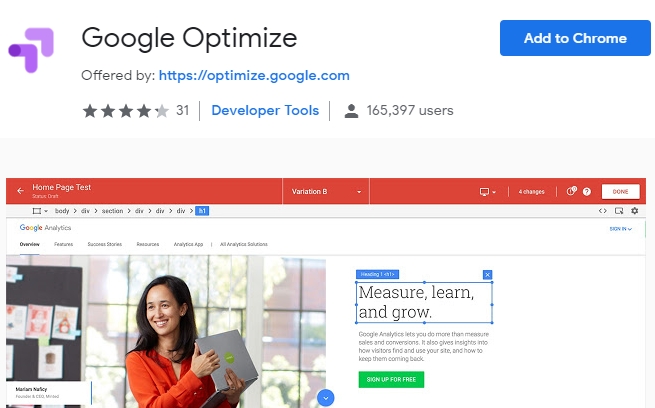 Step #6: Set Up a Experiment
Once you connect analytics to an optimize tool and then add it to the wordpress site, you can do your first experiment.
Click on Create Experiment for this .

In the latter experiment Name and to experiment on the page the URL Please add.
Add Experience name and page URL
After that click on Create in the top right .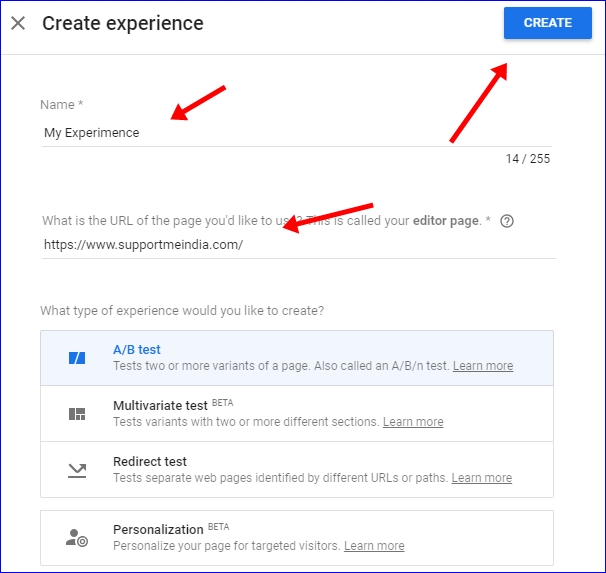 Now in the next screen you have to setup all the details for your experiment.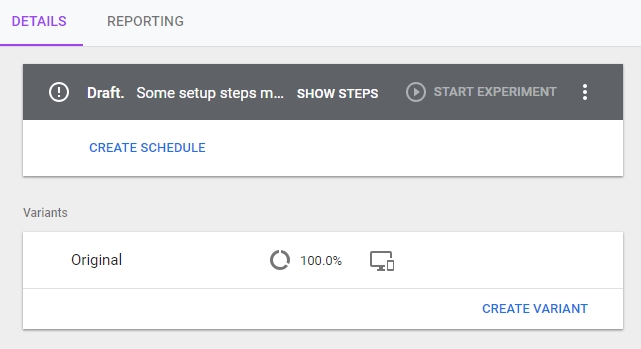 You have to set up the following details before using the Google optimize experiment.
Variants name (which you can not change)
Within each version you will have to choose the percentage of visitors whom you want to display the alternative design.
Enter a primary purpose for your experiment.
Enter your description and hypothesis under the objectives.
Once you capture all your test details, do not forget to click on the Save button.
Step #7: Customize Variants
Once you set up the above mentioned you can go to customize your variants. For this, click on any version you want to define, you will go to front-end visual editor on your site.
There is a top bar that runs with this visual mode, it tells you which test you are in, what version you are working in, and which device are you looking at these changes?
And the small bar below will tell you which edition you are going to edit this version. You can do this directly <>in CSS by clicking on the visual editor or midwife and icon.

To define other variants in your experiment, you do not need to go to optimize dashboard, you can do everything from this bar.
Once you are satisfied with A / B test, you can come out of the experiment draft mode and launch it too. In this way you can use google optimize tool.